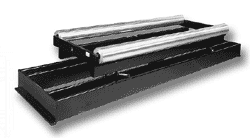 Strong and versatile, the LRC is a solid choice when selecting an offset pivot guide. Available with hydraulic cylinders or electromechanical actuators, this dependable guide can accommodate web widths up to 122" (3100 mm) and tensions up to 900 lbf (4,003 N). Low-friction ball bushings and precision race-rod supports provide low-maintenance operation for edge, line or center guiding applications. Standard guides are equipped with a mounting base for mounting either inside your framework (Type 40) or on top (Type 50) with mounting dimensions designed to match your requirements.

Key Features:
Accommodates web widths up to 122" (3100 mm).
Electromechanical or hydraulic system operation.
Fast, accurate web positioning.
Low-friction ball bushings and racerod supports.Durable construction for low maintenance and long-lasting reliability.Accommodates all threading styles.
Optional Servo-Center available to speed setup and threading
All standard Fife sensors and processors can be used for edge, center, or line guiding.
Many construction and roller options available, including hazardous or other environment protection
Optional mounting brackets and stands are available.
Custom designs are available upon request.
Additional Specifications:
Maximum Correction:
±6.4" (163 mm)
Load Capacity: