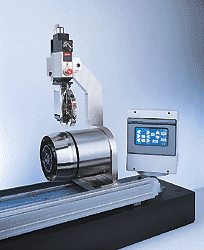 Edge Trim-Self Contained Shear Slitting System
Reduce waste and increase productivity with Tidland Edge Trim, a self-contained shear slitting unit for continuously moving flexible webs. Blade set up time is virtually eliminated during trim changes by quickly repositioning the knife pair (upper and lower blades) simultaneously, without disturbing the slit geometry to maintain the highest level of trim quality.
Improve efficiency even further with Tidland's optional automated positioning system. Intuitive, user-friendly touch-screen controls allow you to reposition slitting units simultaneously, without slowing or stopping the production process.
Additional Key Features:
Simplified connections - Requires only 110 (or 220) VAC single-phase power Industrial touch screen controller
Compact and rugged control console enables many mounting options
Used with Performance Series Class II and Class III Knifeholders
Standard trim support 5.6" (142.24 mm) (narrower and wider supports are available). Maximum trim of 15" (381 mm) possible
Gear reducer option for very slow web speeds
Factory-set removable cant angle. Enter absolute web widths patterns
Make absolute incremental moves, Individual moves, simultaneous bi-directional or simultaneous uni-directional
Key Features:
Removable and reversible blade cartridge

Raise and lower knives quickly
Change measurements from English to Metric
Edge-Trim为剪式分切系統,适用于行进中卷材切边,它可减少刀具定位時間及保持分切品质,并提供完善的运作在任何场所。
适用纸厂或高承载运作;
坚固设计;
一体成型安裝简易;
适用于不同需求运作。
相对于整套排刀系统,Edge-Trim將圆刀及下刀座整合于一体,设定简易,此系统适用于特殊高价位材料的机台或是无法定机定位切边,有了Edge-Trim后,在运行中的卷材亦可调整修边,在也不会浪费特殊高价位材料或是调慢线速度还是停机以供调整修边的需求。