VERSATEC™ versatile tension controllers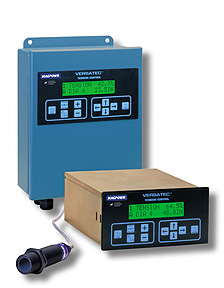 Controlling your web tension doesn't get easier than this! The VERSATEC Versatile Tension Control is a
multi-function automatic tension or process controller that uses the US-2 Ultrasonic Sensor to measure distance and roll diameter. It has selectable operating modes for Unwind, Rewind, Dancer, Free Loop, or Ranging applications.
This flexibility eliminates the need to learn the operation of different controls for different tension zones. The VERSATEC does it all.
The VERSATEC keypad and display provide an intuitive, user friendly operator interface in any operating mode. The control is versatile and powerful, yet very easy to set up and operate. All setup and operating screens are indicated directly on the multi-line alphanumeric menu driven display in real words, not codes, with the corresponding values or status. From the keypad and display, you can control all operating parameters for any operating mode, including tension, distance, dancer position, loop position, alarm set points, security, language and units, and setup selection.
US-2 Ultrasonic Tension Control Applications:
By utilizing the US-2 Ultrasonic Tension Control unit with the VERSATEC control, you can have accurate control by measuring the diameter of the roll. This fully automated ultrasonic tension control system allows your core and full roll alarms to be adjusted to give your operator a signal before reaching the end of the roll. This allows you to reduce scrap by utilizing the entire roll on your web.

Key Features:
Unwind, Rewind, Dancer, Free Loop and Ranger Control all in one package
Stores four setups for quick, precise changeovers
Language selectable in English, French, German, Italian or Spanish
Selectable inch or metric units of measurement
4-20MA, 0 to 10VDC, -10 to +10 VDC outputs all standard
Accepts remote inputs from a PLC or remotely mounted push buttons to adjust the tension setpoint or change the operating setup
Can be used to control magnetic particle and pneumatic clutches and brakes, or AC and DC drives
VERSATEC models available in these following three modes:
Dancer Control Mode
Free Loop Control Mode
Ranger Control Mode