Micro-Adjust slitting system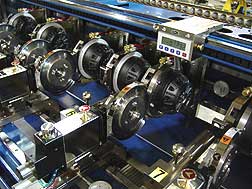 Make finite adjustments of knifeholder position while the press is running with the new Micro-Adjust slitting system. Imagine the reduction in downtime, frustration, operator-risk, and wasted material that you can achieve by repositioning knives from a remote location without stopping the web. This slitting system is ideal for printers producing newspaper inserts, trade journals, magazines and most any material that requires finite adjustments of knifeholder position without stopping the press.
With the Micro-Adjust slitting system, operators use remote-mounted controls to adjust ribbon width, as might be needed to slit on the registration line. Select one or several slitters to reposition and then select the amount of the incremental move. Upper and lower knives are moved simultaneously, maintaining the critical geometry between blades to ensure the highest
quality cut.

Every Tidland slitting system is engineered to ensure that you get the best possible fit for your application using an advanced Modular Slitter Positioning (MSP) methodology. It's an approach that gives you a tailor-made solution using modular pre-engineered components. That way, you can be sure that you only pay for the features that you need, and the system you've selected is optimal for your application.
Key Features:
Accurate knife positioning in pre-set increments
Fast, real-time response to operator adjustment
Remote mounted controls for safety
Reduction of rejected product due to registration or ribbon-width errors
Simple to operate
General Specifications:
Typical Materials: Newsprint and
printed materials
Types of Slitting:
Shear
Minimum Slit Width: 2.25" (57 mm)
Designed Maximum Speed:
5,500 fpm
(1,676 mpm)
Incremental Adjustment:
selectable increments
down to .010"
(0.254 mm)