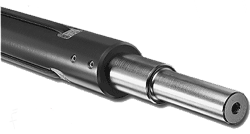 Load your roll onto this full-length Series 800 Strip Air Shaft and experience the perfect combination of balance and torque. These advanced shafts have a two-piece expanding element body design, non-metallic retraction springs, durable poly bladder, and a fail-safe multi-circuit air system, with check valves to ensure that a loss of air in one element will not affect the expansion and performance of the other elements.
The Series 800 Shaft is designed for standard- to heavy-duty in 1.5" to 16" (37.5 mm to 406 mm) ID cores. This shaft's full-length strip design delivers full length grip and excellent torque characteristics, making it ideal for medium- to heavy- duty unwind and rewind applications.
Key Features:
Advanced strip design delivers ideal combination of balance and torque.
Two-piece expanding elements can be changed easily, without even removing the shaft from the machine.
Journal detail can be customized to fit existing equipment.
Available in many sizes to accommodate any converting application.
Faster, easier shaft handling maximizes productivity.
Durable construction designed to withstand abuse and abrasion.
Manufactured to your specifications.
Options:
Side, end or dual valves
Rotary union and remote valves
Cantilevered support mounting
Aluminum, steel or alloy bodies
Corrosion resistant finishes
General Specifications:
Application: Meduim- to Heavy-Duty
ID Core Sizes:
1.5" to 16"
(37.5 mm to 406 mm)