TR-5 Tension Readout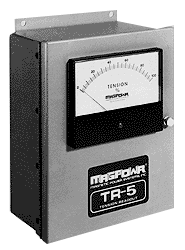 Whether you are working with a wide web or single strand web, the TR-5 Tension Readout from MAGPOWR is an excellent choice. This system can be used on any non-driven idler roll or at any position where the wrap angle of the web or strand does not change. Each load cell contains four foil type strain gages bonded to a sensing beam. These gages convert the load on the roll or sheave to an electrical signal. Within the TR-5, the signal from the load cell(s) is amplified and displayed on the tension meter.
The amplifier of the TR-5 has low drift and high linearity with a gain control range of 8:1 and tare adjustment of 50%. An auxiliary 0 to 10 VDC, or 4 to 20 mADC output is provided for interfacing to other products or systems.
Key Features:
Precision tension meter for direct tension readout
8:1 calibration range
Tare adjustment of 50% sensor rating
Overall system accuracy better than 1%
Auxiliary 0 to 10 VDC or 4 to 20 mADC output
Operates with either one or two sensors
Easy to install and calibrate
Improved productivity by eliminating operator dependency
Improved quality through reproducible correct machine settings
Switch selectable 115/230 VAC input
General Specifications:
§ Power Inputs:
115/230 VAC +/- 10%, 50/60 Hz, switch selectable
§ Tension Input:
0 to 21 mv (one or two 350 ohm full bridges), 0 to 500 mv (one 120 ohm full bridge)
§ Tension Output:
0 to 10 VDC or 4 to 20 mADC