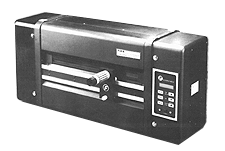 The Scan-A-Web® visual inspection system provides quality assurance by allowing direct, live image viewing of a moving web. Widely used to ensure print quality, color, and registration, this system delivers a full viewing width of 19.7" (500 mm), with optional 5X and 10X magnification scopes available for more detailed inspections.

Operators can perform detailed, in-process inspections of the web surface while running at full production speed using the Scan-A-Web system. The system is digital processor-based for reliability and performance and with this technology, can be adjusted to any repeat length or gear combinations without mechanical or hardware changes.

Scan-A-Web systems are used throughout the world to ensure that print quality, color, and registration meet the requirements of the job run.

Key Features:

Allows detailed, in-process inspection of a moving web.

Large field-of-view with widths up to 19.7" (500 mm).

Hard-lock image stability for quality assurance.

User-friendly menu control.

Several input devices to choose from.

5x and 10x magnification scopes available.

Front and rear lighting options.

Optional mounting configurations to match your needs.