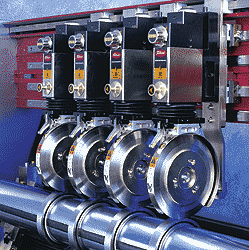 Higher quality slit edges, much faster set-up times and less dust mean better rolls and more productivity. Tidland's MSP slitting systems deliver all that at a price and performance level that fits the way you work.
Tidland's Modular Slitter Positioning (MSP) is more than just a slitter, it's an approach. A methodology that gives you an advanced, custom-configured solution using modular pre-engineered components. That way, if you don't need the feature, you don't pay for the feature.
Because the MSP is a custom, scaleable solution, it is practical for just about any converting application. Each level builds upon the components of the previous version to provide additional benefits. Every MSP product includes a seasoned Tidland engineer review of the customer specific application with recommendations for improvement.

Tidland can build the system you need
There are three basic levels of MSP solutions.
1. Manual MSP Slitter Base System
The basic manual MSP is a simple, cost effective option. Upper and lower knife configurations are designed for your specific needs. High quality components provide immediate improvements in roll quality, dust reduction and blade life. Tidland Engineers select from the following components based upon your unique needs;
Knifeholders - Tidland's Performance Series Knifeholders retrofit to almost any machine. We'll help you choose the size that's right for your application.
Lower Knives and Slitter Shafts - Machine width, minimum slit width and target running speed will determine which drive knife ring combination works best for you. For shear applications, a pneumatic shaft instantly locks knife rings in place, saving time and money. Anvil shafts are also available for crush applications.
2. Semi-Automatic Upgradeable MSP Slitter
Upgradeable MSP systems provide the performance you need now, with the flexibility to upgrade in the future. This semi-automatic system with enhancements like digital measurement and Easy Glider linear positioning further reduces setup times and increases consistency. The Upgradeable system includes;
Digital Measurement System - Measures knife placement to ±0.002" (0.05 mm) accuracy. Reduces operator error and speeds up repositioning times. LED displays read-out in metric or inch units.
Linking Mechanism - Allows upper and lower knives to be repositioned simultaneously for faster setups.
Easy Glider Linear Positioning - Provides faster, smoother movement of knifeholders. Also enables addition of automatic positioning.
3. Fully Automatic MSP Slitter
A fully-automatic MSP slitter will take your operation to a whole new level. Hands-off operation and high-speed, accurate knife positioning delivers maximum productivity while reducing operator error. This PC based operator interface automatically positions and controls set-ups. 10 knife setups take less that 3 minutes and are accurate to ±0.010" (0.254 mm). The fully automatic MSP slitter includes;
Upper and Lower Linear Positioners - For applications where the web absolutely cannot be broken during slitter repositioning. Dual computer-operated positioners move upper and lower slitters separately but simultaneously. Provides maximum accuracy and automatic positioning speed.
Lower Linear Positioner - Automated high-speed positioning with web out. Computer-operated positioner moves linked upper and lower slitters as one, retaining consistent blade-to-blade geometry.
PC based Computer and Motion Controls - Control function of electronic positioning, integrates with most plant systems. Allows storage of information for productivity improvement, just-in-time delivery and trim optimization.