GTS Under Pillow Block Load Cells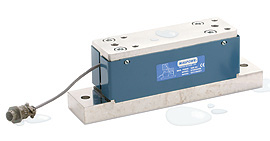 The GTS Global Load Cell is used for under pillow block applications. The units are designed to be mounted under standard inch or metric pillow block bearings, which support a live or dead shaft roll. By measuring the load created by the web and acting on the sensing roll, precise and accurate tension can be displayed and controlled.
Two GTS sensors should be used, one for each side of the sensing roll. When installed in this manner, the two load cells accurately measure the total web tension force acting on the roll, independent of web width or location. The flexible cable connector eliminates the need for left and right models, since each GTS load cell can be mounted on either side of the machine. Every load cell is constructed with mechanical overload stops in both force directions to prevent load cell damage and eliminate the need for recalibration even after extreme overloads. A full Wheatstone bridge is incorporated into each GTS load cell for the maximum accuracy and stability.
GTS Global load cells are adaptable. All sizes are pre-drilled and tapped to accept standard inch and metric pillow block bearings. Adapter kits are available.
Key Features
General Specifications:
· Gage Resistance: 350 ohm
· Excitation Voltage: 10 VDC nominal
· Output Signal:
· 21 mVDC nominal per sensor at full load rating
· Operating Temperature:
· -30° to 95° C
· Rating IP67 for water wash-down & immersion