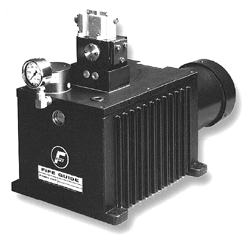 Specifically designed for web guiding, Electrohydraulic Power Units are ideal for use with Fife's full line of electronic sensors and signal processors and perform for you regardless of material or load requirements. Their compact design, ease of installation, low maintenance and durability make them an attractive choice for any web guiding application. All standard models may be provided for single, double, or triple guiding installations by utilizing one or more servo valves on a single power unit, providing the advantage of controlling more than one guide with a single power unit.
Key Features:
Provides superior response and control for any web guiding application.
Exclusive spool-type servo valve for unexcelled sensitivity and stability.
For use with Fife electronic sensors and signal processors.
Units are furnished complete with hydraulic fittings and cables.
Electrical cables are multi-conductor shielded cables. They are encased in polyvinyl chloride to withstand acids, alkalis, oil, flame, moisture, solvents, and fungus.
Power Units Electrohydraulic Options
All Fife power units are available with Servo-Center, Manual-Automatic, and many other circuit system options.
Remote controls are available, and may can be incorporated into the customer's control panel.
Optional alarm package system will lock in place and send an alarm if the sensor does not detect the preset guide point within a selectable period of time.
Systems can be configured to edge guide, line guide, or center guide. Dual sensor systems can edge guide from either edge or center guide. Center guides may be either fixed-sensor or moving-sensor systems.
Floor or wall mounting brackets available.