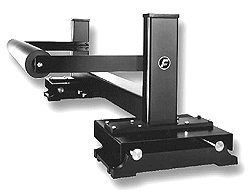 Shifta-Roll positioning stands provide accurate edge alignment for unwind and rewind guiding. Powered by electromechanical actuators or hydraulic cylinders, these stands were developed to accommodate or replace existing roll stands that would not otherwise lend themselves to automatic guiding applications.
Capable of handling loads up to 5,200 lbs (2359 kg), these durable stands feature two raceway bases, hardened race-rod supports, and carrier blocks with ball bushings or Teflon bushings. Available with or without uprights, or as raceway base assemblies, the Shifta-Roll positioning stand easily adapts to new or existing machinery. New linear Rail Design has maximum load of 5,200 lbs.
Key Features:
Reliable, accurate edge alignment for unwind and rewind guiding.
Electromechanical or hydraulic system operation.
Fast, accurate web positioning.
Easily adapts to new or existing machinery.
Durable construction for low maintenance and long-lasting reliability.
Compatible with all standard Fife sensors and processors.
Sensor selection is based on web material and system requirements.
Optional Servo-Center available to speed setup and threading.
Custom designed and manufactured according to your specific application requirements.
General Specifications:
Unwind Stands-Stands shift laterally to ensure the correct edge alignment to a predetermined guide point. Depending on the sensor selected, unwind guiding sometimes requires a direct mounted or slaved idler(s) for proper operation.
Rewind Stands - Roll is positioned to align the edge of the approaching web to the edge of the rewind roll. The sensor chases the edge of the web and laterally positions the stand directly downstream of the incoming web.
SRS-Type Unwind Stands - A pre-engineered stand specifically designed to accommodate large polyethylene rolls used in making bags. With a two-high light-duty roll design, this stand allows either roll to be easily loaded while the other roll is being used. Includes roll shafts and drag brakes.