Global Series Magnetic Particle Brakes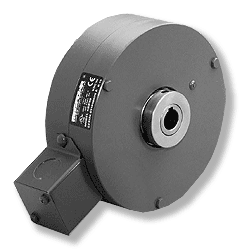 Smooth controllable torque, torque repeatability and torque independent of speed make the MAGPOWR Global Series Magnetic Particle Brakes suitable for many power transmission and tensioning applications. The Global brake line represents state-of-the-art magnetic particle technology. The latest materials and components, modern CNC manufacturing techniques and a sleek design make these brakes the first choice of engineers designing OEM or retrofit equipment.
Long life is assured by polished seal surfaces, high temperature materials and rugged construction. This new line features compact size with through bores and all machined housings for ease of mounting.
This is truly a Global product with the M (Metric) series having full metric bores and keyways, as well as metric mounting hardware and setscrews. Metric dimensioning is provided to support international design requirements. This is the brake line for the Global marketplace.
Our application engineers are standing by to help you select the brake that best fits your application.

Key Features:
Torque independent of speed
Smooth control of torque
Float mounted on shaft
Low cost
General Specifications:
· GBA - Global Brake Size A - 5.5 lb-ft (7.5 Nm)
· GBB - Global Brake Size B - 11 lb-ft (14.9 Nm)
· GBC - Global Brake Size C - 26 lb-ft (35.2 Nm)
· GBD - Global Brake Size D - 56 lb-ft (75.9 Nm)
· Global Brakes - General Information