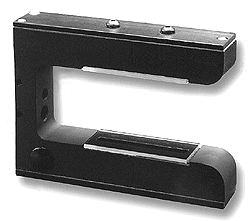 The compact design and wide band versatility of the SE-23 makes this infrared web sensor well-liked by many of our customers, especially when significant guide point adjustments are required. This sensor has a control range of 2" (50.8 mm) and a standard sensing gap of 2" (50.8 mm).


Used widely in pairs to center guide, the SE-23 delivers unmatched performance for non-woven and other materials where neck-down of the web is a problem. Additionally, the SE-23 can be used where substantial variations in the guide point are required.

Key Features:
Ideal for guiding applications where neck-down of the web is a common problem.
Wide control range allows for significant guide point adjustment.
Immune to web plane changes and unaffected by ambient light, including sunlight.
Modulated infrared light will not affect photosensitive paper/film.
Compatible with all Fife processors.
Standard sensing gap is 2.0" (50.8 mm) with a control range of 2.0" (50.8 mm).
Flexible mounting and positioning assemblies to ensure quick and easy installation.
Electrostatic discharge protection.
Additional Specifications:
Power Required:
10 to 15 VDC at 40
mAOutput Signal:
0 to 10 mA
Weight:
19 ounces (539 grams)
Temperature Range:
41º to 140º F (5º to 60º C)