F
ife pneumohydraulic power units are specifically designed for web guiding, providing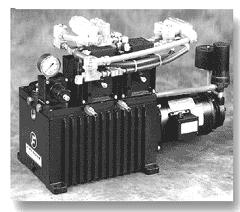 superior response and control with fully proportional corrective action. Power units are equipped with our exclusive four-way, spool-type servo valve to deliver unmatched sensitivity and stability in guiding applications for all types of materials, at any speed, under any load.
Completely self-contained, these pneumohydraulic power units have a built-in regulated air system with a pump, filters, and regulator, as well as their own hydraulic reservoir, pump, filter, and relief valve. External air is not required. Pneumohydraulic power units can be supplied with one, two, or three servo valves on a single power unit. One power unit simultaneously, yet independently, can handle up to three separate guiding operations. For more than three guiding operations, a combination of power units may be used.
Key Features:
Adjustable air pressure system provides for sensitivity adjustment and is matched to the controller, sensor, and guide structure.
Compact, modular construction minimizes exterior tubing and provides maximum ease of servicing.
Totally enclosed or explosion proof motors are available.
Additional hydraulic ports are supplied on all units for use with optional Fife equipment.
Options:
All Fife power units are available with Servo-Center, Manual-Automatic, and many other circuit system options.
Floor to wall mounting brackets are available as requested.
Heavy-duty and/or remote location air filters can be supplied.