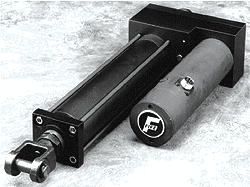 Demanding applications are no problem for the AG-9 Electromechanical Actuator. This rugged actuator is widely used for steering guides, displacement guides and unwind/rewind applications. The AG-9 combines high thrust and variable gear ratios to deliver the flexibility you want. It's gear-driven with a non-sticking end of stoke design that eliminates the need for actuator limit switches and delivers dependable, quality rolls.
The AG-9 Actuator provides shiftable loads from 2,920 to 3,910 lbs (1,324 to 1,774 kg) with incredibly fast shifting speeds of 0.66 to 0.50 inch/sec (17 to 13 mm/sec)
Key Features:
Fast, accurate operation.
Gear-driven actuator.
Clean, electronic operation.
Durable construction for continuous-duty reliability.
Non-sticking end of stroke design.
No limit switches required.
Compatible with all Fife automated guiding and positioning equipment.
Sized and configured to your requirements.
Additional Specifications:
Maximum Design Thrust:
292 to 391 lbf (1,299 to 1,739 N)
Maximum Shifting Speed:
0.66 to 0.50 inch/sec (17 to 13 mm/sec)