DTM- Digital Tension Meter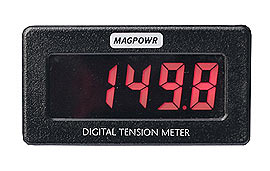 A low-cost way to monitor tension output, the Digital Tension Meter (DTM) is perfect for applications where access to tension control parameters is not required. So, if you mount a Spyder or Cygnus control away from the web, this product gives an operator feedback on current web tension via a backlit display and illuminated digits.
The DTM is encased in high-impact plastic to withstand demanding conditions. A sealed front panel meets industry-standard NEMA 4X/IP65 specifications for wash-down and dusty environments.
Key Features:
Easy to read LCD with red 0.6" (15.2 mm) tall digits
Built-in scaling
Auto zeroing circuit
Compact enclosure fits DIN standard cut-out: 2.68" x 1.30" (68 mm x 33mm)
Wire connections made via screw clamp type terminals
General Specifications:

Supply Voltage:
9 to 28 VDC, 35 mA maximum

Display:
3.5 digit
(-9999 to 9999)

Input:
10 mADC maximum

Accuracy:
@ 23° C, less than 85% RH ±(0.1% + 1 digit)

Reading Rate:
2.5 readings per second

Response Time:
1.5 seconds for a step change