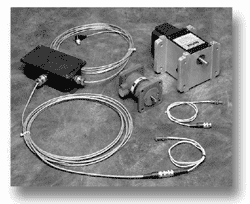 Whether your application lends itself to encoder-type, digital input or proximity sensor-type, single index pulse input, Fife offers a wide variety of devices to meet your needs. For use with our Scan-A-Web® Visual Inspection System, these signal input devises provide a dedicated, synchronized link to your process line, delivering hard-lock image stability and ensuring overall system reliability.
CT-32/ CT-30X Command Transducers ?These encoder-type signal input devices provide great flexibility in installation locations. Both versions are designed to generate 200 signal pulses for each complete encoder shaft revolution. The CT-30X is UL-Listed for NEMA 7, Class I, Group D, Divisions I installations.
PS-61/PS-61X Proximity Sensors ?Best for flexo-type presses, these signal input devices provide flexibility in job configuration and image stability. Both versions produce one signal pulse for each pin (gear tooth) or flat detected. The PS-61X is specifically designed for intrinsically safe installations.
Key Features:
Encoder-type or proximity sensor type signal input.
Provides a dedicated, synchronized link to ensure system accuracy and reliability.
Hard-lock image stability.
For use with Fife Scan-A-Web Visual Inspection System.
Configured to meet your system requirements.