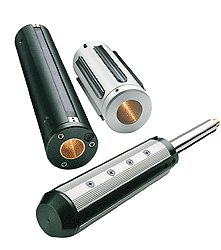 If you are working with a narrow-web/label press application and are looking for inexpensive ways to integrate or replace your shafts, then find out how Tidland's
Narrow Web Shafts continue to deliver quality and reliability to their users. The Narrow Web Shafts were created specifically to meet the needs of narrow-web converters. These economical shafts are designed to fit any press - with cantilevered, drop-in, flange, and bar mounting styles available.
Key Features:
Affordable core shafts and chucks specifically engineered for label press applications.
Fits any press, with cantilevered, drop-in, flange, and bar mounting styles available.
Durable construction designed to withstand abuse and abrasion.
Manufactured to your specifications.
Modular components for quick off the shelf spares
Models Available:
Roll Centering Leaf Shaft - Series 650 C
Three-leaf design minimizes thin wall core deformation and improves roll quality. For rewinds, special centering ribs in-between expanding leaves position cores closer to the center of rotation, resulting in better-quality finished rolls.
External Element Shaft - Series 800 GN
This shaft features our innovative two-piece external element design. Ideal for close tolerance cores on unwinds and for thicker walled cores on rewind.
External Element Core Holder - Series 800 GH
This core holder also utilizes our innovative two-piece external elements. Designed for bar mounting, it is interchangeable to hold other core sizes.
Automatic Lug Chuck - Model AL
The Model AL Chuck features spring-loaded, torque activated expanding lugs for economical die cut and trim removal in narrow web application.