CL Cantilever Load Cells for Narrow Web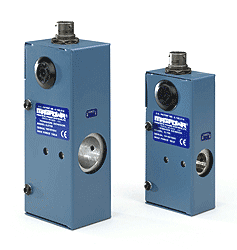 The CL Cantilever Load Cells are the most cost effective cantilever load cell on the market. They are designed to support cantilevered idler rolls in processing machines which only have one side frame, and to accurately measure and control tension in a narrow moving web. They are typically used on paper, film, foil, wire, fiber, fabrics or any materials used in the label, tag, tape, printing or converting industry.
A unique advantage of these sensors is their ability to accept your roll and shaft assembly.You are no longer restricted in design - just install one of your own spare roll assemblies into the Model CL Load Cell.Another advantage of these load cells is the capability to be mounted inside or outside of the machine frame.This allows the process rolls to be mounted flush to the machine frame to minimize overhang when the sensor is mounted on the back side of the machine frame.Full Wheatstone bridge provides the best accuracy available.
The model CL Load Cells are ruggedly constructed with built-in mechanical overload stops. A full Wheatstone bridge arrangement is incorporated in each load cell for the most accurate means of measuring web tension. There are 2 sizes available with 5 tension sensing ranges up to 500 lbs.
General Specifications:
Inside or outside machine mounting
Rugged construction for long-life
Built-in mechanical stops
Rating IP67 for water wash-down & immersion