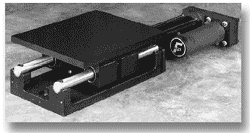 The EM-8 provides a dependable way to position equipment accurately in virtually any chasing application such as small unwinds/rewinds, glue nozzle positioning and sewing machine heads. Designed for continuous operation, this heavy-duty, dual race-rod positioner is capable of handling loads up to 1252 lbs. (568 kg), with strokes from 2.0" to 6.0" (51 mm to 152 mm). The EM-8 positioner is available with hydraulic cylinders or electromechanical actuators to ensure it will meet your system requirements.
The EM-8 can be tied into an existing system or maintained as a separate system. When used as a chasing system, the positioner ensures your equipment or device is accurately aligned and continuously follows or chases a moving web. Standard mounting surface is 10.0" x 12.0" (254 mm x 305 mm). An automated positioner centering (servo-center) option is available, as well as a variety of controller systems.
Key Features:
Durable construction and quality design assure continuous-duty operation in any chasing application.
Servo-Center option available; brings the positioner to midstroke automatically.
Versatile control packages available.
Custom designed and manufactured to meet your specific requirements.
Standard mounting surface is 10.0" x 12.0" (254 mm x 305 mm).
Available in hydraulic or electromechanic