Series 550 Lug Shaft - Mechanical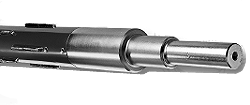 Interested in way to eliminate core damage, prevent roll slippage during fast startups and shutdowns, and minimizes vibration at high web speeds? Then you should check out the Tidland Mechanical-Expanding Lug Shafts. They are strong and versatile, delivering superior performance in the widest range of converting unwind and rewind applications. The Series 550 Mechanical lug shafts are unmatched for positive holding power. The Lug-style is designed for medium-to heavy-duty applications and enables you to start increasing your roll quality and reduce those vibrations at high speeds right away. The simple modular construction and standardized components mean quick off-the-shelf spares service for in-plant maintenance when necessary.
The Series 550 Mechanical Lug Shaft is designed for standard- to heavy-duty in
3" to 6" (76 mm to 152 mm) ID cores. Performance is delivered again and again for multicolor printing and converting operations involving heavy rolls at higher speeds and sensitive material such as foils.
Key Features:
Lug-style design prevents roll slippage during fast startups and shutdowns.
Faster, easier shaft handling maximizes productivity.
Durable construction designed to withstand abuse and abrasion.
Manufactured to your specifications.
6-way staggered lug design for best gripping along length of core.