Easy Glider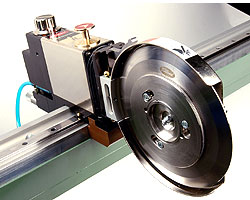 Reduce setup time and increase your ability to compete on shorter runs with the Easy Glider from Tidland.
The Easy Glider incorporates the best of both worlds; a true bearing for ease of movement, plus a dovetail guide bar for secure support and positive clamping. An industrial quality linear bearing rail is integrated into a traditional dovetail guide bar, and a precision recirculating ball bearing is designed into a Performance Series knifeholder mount. The two systems (dovetail and bearing) functionindependently without conflict.

Easy Glider is available on new Performance Series knifeholders, and can be retrofit to existing units as well.
Want to view the NEW Easy Glider knifeholder positioning video?
Looking for a quote on the Easy Glider, Tidland slitting system or slitting product? Click here GO>>
Key Features:
Available for Class II and III Performance Series Knifeholders.
Upgrade kit includes Easy Glider mount (specify the number of slits) and replacement linear rail guide bar (specify existing guide bar length).
Does not change minimum slit width or mounting requirements.
A cost-effective solution for faster knifeholder positioning on manual or semi-automatic slitters.
General Specifications:
12" (304.8 mm) centered pre-drilled holes on rail mount
Manual or Pneumatic lock