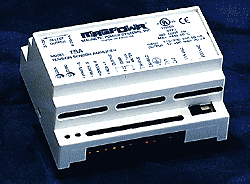 Maximum accuracy and ease of use in any web tension measurement application is now available with the new TSA Load Cell Amplifier. With exceptionally better drift and linearity performance over competitive units, the TSA is the choice when performance matters. It can measure tension in any moving web, wire, or strand.
The TSA provides power to one or two full or half bridge tension sensors and amplifies the tension measurement signal for display, or for feedback to any control device. It also allows maximum flexibility of the tension sensing range of any size sensor by providing a gain control range of 8:1 and a tare adjustment of 50% of the sensor rating. The TSA also offers selectable 115/230 VAC input and 0-10 VDC or 4-20 mADC output for maximum interface flexibility.
Key Features:
Process improvement through repeatable machine settings
Superior drift and linearity performance for accuracy
Flexibility of 0-10 vdc, or 4-20 mADC output
Compact enclosure requires minimal space
Flexibility of an 8:1 sensor calibration range
Simplicity of DIN rail mounting
CE compliant and UL Listed
Part Numbers and Descriptions
TSA Tension Sensor Amplifier
9A22-1 Tension Meter
SC-15 Sensor Cable, 15 ft.
SC-20 Sensor Cable, 20 ft