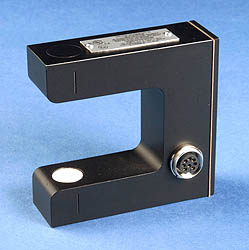 Are you looking for an accurate web guide sensor for your hazardous location? The SE-31-IS Ultrasonic Sensor is specifically designed to perform for you. Ideal for guiding the thickness and opacity of films, as well as most opaque webs, this sensor is fully certified under UL, cUL (US & Canada), and CENELEC (Europe). The SE-31-IS has control range of 0.3" (7.62 mm), a sensing gap of 2" (50.8 mm), and requires the same 12 VDC power supply as most other Fife sensors. The maximum sensor voltage and current is protected through a safety barrier located outside of the hazardous area. Maximum cable length from the sensor to the processor is 165 feet (4.19 m).
Key Features:
Specifically designed for hazardous locations certified by UL, cUL (US and Canada and CENELEC Europe).
Compact, versatile sensor will sense the thinnest and clearest films, as well as most opaque webs.
Immune to web plane changes and unaffected by optical variation or ambient light, including sunlight.
No special sensor orientation is required to avoid the effect of standing waves.
Temperature compensated, microprocessor-based design.
Closed-face transducer - splash proof.
Compatible with all Fife processors.
Standard sensing gap of 2.0" (50.8 mm) with a control range of 0.3" (7.62 mm).
Flexible mounting and positioning assemblies ensure quick and easy installation.
Electrostatic discharge protection.
Additional Specifications:
Power Required:
+12 VDC
Output Signal:
0 to 10 mA
Update Rate:
3 ms
Weight:
15.24 oz (432.1 grams)
Temperature Range:
41º to 140º F (5º to 60º C)