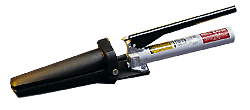 Save your crushed core with Tidland's Mark I or Mark II Roll Savers. These roll savers are designed to re-open crushed cores, allowing for shaft insertion on rolls that would otherwise be considered scrap material. Ideal for mills and converters, Roll Savers provide fast results, and can be used virtually anywhere, without any special training.
The Roll Saver provides a return on your investment with its very first use. The cost of a Roll Saver is comparable to that of a damaged roll, creating a positive impact on profit margins and warehouse space. Air shafts cannot be inserted into rolls with even with the slightest deformation, leaving damaged rolls useless. With a Tidland portable hydraulic Roll Saver, rolls with core I.D.'s of 3" (76 mm) can be salvaged, providing a positive impact on warehouse space and an immediate return on investment.
The Mark II Roll Saver has a hydraulic pump located below the handle, transmitting up to 9,000 psi (621 bar) to the cast steel jaws. The closed jaws are positioned in the crushed roll. A few strokes on the pump handle will force the jaws open. To close the jaws, simply open the release valve. Repeating this process several times allows the Roll Saver to move further into the roll. Once inside the roll, the operator must rotate the Roll Saver to push out in all directions, especially in the direction of the maximum crush. The Mark II is designed for fiber cores and is not recommended for steel or steel tipped cores. Film rolls constricted or crushed by film tension may not be repairable.
Key Features:
Fully transportable - Lightweight design can be used virtually anywhere
Trouble-free Operation - Easy to operate hydraulics provide up to 4 tons of thrust, giving you fast results
Restores 3" (76 mm) cores
Cost effective - Return on your investment can occur with your first salvaged roll!
Easy to use
General Specifications:
Core ID:
3" (76 mm)
Penetration:
Maximum 10" (250 mm) Maximum Weight:
19 lbs. (9kg)
Hydraulic Pressure:
9,000 psi (621 bar)
(Hydraulic ram located between jaws develops a thrust of 4 tons)
Expansion:
Recommended for 45" (1025 mm) diameter rolls up to 36" (902 mm) wide