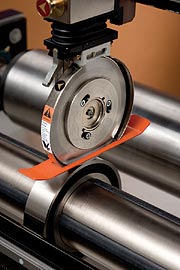 Knifeholder Blade Guard
Retrofit existing Performance Series, Series C
and other knifeholders with a low-cost blade guard to reduce operator injury. This guard is an inexpensive way to minimize the risk of operator injury while upper and lower knives are engaged. Each blade guard
attaches directly to the existing knifeholder, acting as an extension to alert operator's when they are too close to the blade, giving them more time
to react.
For the highest level of slitting safety, use this blade guard along with our 360˚ blade guard to provide protection when handling knifeholders while out of production and while on a machine.
Tidland is dedicated to improving the safety of the slitting process. For more options, be sure to check out our reversible cartridges, electronic slitter positioning and video based operator training programs.
Key Features:
A cost-effective way to increase slitter safety without downtime
Easily retrofits to any existing Performance Series Knifeholders
Deflects hands away from sharp blades, giving operators more time to react
Safety orange paint calls attention to slitter danger
Additional resources to improve slitter safety include cut-resistant gloves, a workbench fixture for safe blade changes away from the web, and operator training programs
General Specifications:
Attaches to any Performance Series,
C Series, or other knifeholder with 4 screws.
Maintains existing minimum slit widths.