DTR Tension Readout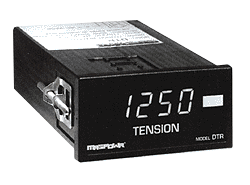 Accurate. Large Readout Interface. Easy to Install. The DTR Digital Tension Readout is an accurate digital readout for the measurement and display of tension in a moving web, strand, wire or narrow tape.
The DTR can be used with load cells to measure and display the web tension forces acting on any non-driven idler roll or sheave at any position where the wrap angle of the web does not change. The DTR Amplifies an electric signal from one load cell for a narrow web, or two load cells for a wide web, and displays the measurement tension on the four digit LED meter.
Adjustments for the roll weight, maximum tension, scaling of the 0 to 10 VDC output and decimal point location are conveniently located behind the snap-on front cover. The amplifier of the DTR has low drift and high linearity with a gain control range of 8:1 and tare adjustment of up to 50% of the load cell rating. An auxiliary 0 to 10 VDC or 0 to -10 VDC output is provided for interfacing to other products or systems.
Key Features:
Precision tension meter for direct tension readout
8:1 calibration range
Tare adjustment of 50% sensor rating
Auxiliary 0 to 10 VDC or 0 to -10 VDC output
Operates with either one or two sensors
Easy to install and calibrate
Improved productivity by eliminating operator dependency
Improved quality through reproducible correct machine settings
General Specifications:
Product Name:
DTR Digital Tension Readout
§ Mounting:
Can be used with one or two load cells
§ 1/8 DIN panel mount enclosure