IS-2 intrinsically Safe Web Load Cell Amplifier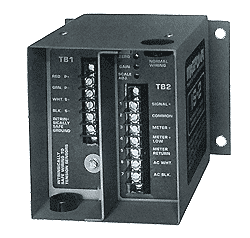 The Model IS-2 amplifier provides intrinsically safe circuitry for UL Listed MAGPOWR load cells. It is specifically designed for safe, accurate measuring and controlling web tension in hazardous locations. When used with UL listed MAGPOWR load cells, the IS-2 is UL approved for Class I, Groups A, B, C and D; Class II, Groups E, F, G and Class III. This allows the load cells to be mounted directly in the hazardous area without air purging.
The IS-2 amplifier is compatible with all MAGPOWR UL listed load cells, tension readouts and tension controls. An auxiliary 0 to10 VDC analog signal proportional to tension is available for interfacing to other controls. A calibration range of 8:1 allows you to use the load cells at 1/8th of their capacity and maintain full-scale meter indication of total web tension. When used with MAGPOWR load cell cables, the IS-2 amplifier may be mounted more than 100 feet (30.5m) from the load cells.
Key Features:
Rugged industrial enclosure
Compatable with all UL listed MAGPOWR Load Cells
8:1 range adjustment. Use sensor at 1/8th of it's capacity and maintain full scale indication of total web tension
Listed by UL for Class I, Division 1, Groups A, B, C and D; Division 1, Groups, E, F, and G and Groups III, Division 1
Dual meter outputs for high and low range indication
General Specifications:
· Input Power:
115 VAC, +-20%, 50/60 hrz
Maximum safe area voltage:
250 VAC
Auxiliary Output: 0 to 10 VAC
Zero (tare): 50% of sensor rating