LAB-10 Actuator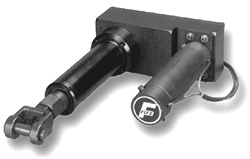 The LAB-10 offers a variety of gear ratios to meet the needs of most applications. This rugged, high-thrust actuator provides shiftable loads from 4,400 to 8,400 lbs (1,996 to 3,810 kg), at speeds from 0.95 to 0.55 inch/sec (23 to 14 mm/sec). Standard actuator strokes range from 1" to 10" in 1" increments. Ball screw and nut design provides low-friction, efficient operation and eliminates the typical end of stroke sticking and/or the need for actuator limit switches. For use with Fife's CDP-01 Processor, this versatile actuator is widely used for steering guides, displacement guides, and unwind/rewind applications.
Key Features:
Flexible actuator provides a variety of gear ratios: 5:1, 7:1 and 9:1.
Reliable, accurate operation-shifting speeds up to 0.95 inch/sec (23 mm/sec).
Efficient two-belt drive with shiftable loads up to 4,400 to 8,400 lbs (1,996 to 3,810 kg) (using anti-friction bearings)
Clean, electronic operation.
Durable construction for continuous-duty reliability.
Nonsticking end-of-stroke design.
No limit switches required.
Compatible with all Fife automated guiding and positioning equipment.
Sized and configured to your requirements.
General Specifications:
Gearing Ratio:
5:1, 7:1 and 9:1
Motor Amps:
2.6
Maximum Design Thrust:
440 to 840 lbf (1,957 to 3,736 N)
Maximum Shifting Speed:
0.55 to 0.95 inch/sec (14 to 23 mm/sec)
Maximum Shiftable Load:
4,400 to 8,400 lbs (1,996 to 3,810 kg) (using
anti-friction bearings)