Boschert Safety Chucks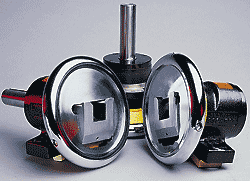 Looking for additional roll support and torque transmission
for your winding process?
Then get a Tidland Boschert Safety Chuck. They are pre-engineered solutions designed for use with a core shaft and tension brake on an unwind or a core shaft and drive on a rewind and are suitable for winding paper, paperboard, film, foil, textiles, nonwovens, metals, and other materials.
Safety chucks are an economical solution for both end-user retrofit and new equipment for an OEM.
Key Features:
Self closing (If manual closing is overlooked)
Effective load bearing design
Wide range of operating capacity
Wide range of sockets and shapes
Special drive shaft ends
Hand wheel locks
Insures roll is supported
Additional Key Features:
Safe Long bearing life
Smoother rotation
Fits any winding application
Custom solution to fit your requirements
Fits to your brake or drive requirement
Prevents unintentional shaft release
Radial driver for idler chuck
There are three basic mounting styles to choose from:
Fixed Safety Chucks – These pillow block mount chucks are designed to be used for fixed winding positions. Flange mount chucks can be used for multi-position turret winding as well as fixed positions. Additional features for turret winders include hand wheel lock and optional extended opening socket angle.
Sliding Safety Chucks - Sliding chucks are designed to allow lateral roll positioning with a manual adjustment wheel with roll locked on the core shaft. Motor driven lateral adjustment is optional.
Automated Safety Chucks – The automated Tidland Boschert safety chucks are available in two designs. The basic design uses pneumatic pressure to open and close the chucks for automatic roll loading or remote control due to limited chuck access. A second design adds the security of redundant mechanical locking in the event of electrical or pneumatic failure. Axial and lateral core shaft alignment guides to reduce operator involvement. Optional sensors can identify open, closed, and rotation position of the chucks.
General Specifications:
Safe closing (If manual closing is overlooked)
Handwheel locks, Insures roll is supported
Special finger guard
Axial roll adjustment option
Integrated rotary union air supply option