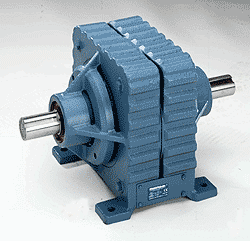 Want easy to install, reliable, long lasting performance in a clutch? Then look no further. The MAGPOWR "C" Series Magnetic Particle Clutch is easy to install, made of rugged cast iron for long life
and has minimal moving parts so
you can mount the clutch, put it to work, and forget about it!
The magnetic particle clutch is
a very simple, durable device. The magnetic particles are located inside the clutch between the O.D. of the rotor and the I.D. of the drive cylinder. With no current in the coil of this device, the particles are free to lie loosely between the rotor and the drive cylinder. When current is applied to the coil, it sets up a magnetic field in the stator. The magnetic particles line up with the magnetic field and couple the rotor to the drive cylinder. As the current is increased, the magnetic field increases and the coupling increases. This coupling, or torque capacity, is proportional to the amount of current in the coil.
Long life, smooth starts and stops, and silent operation make it perfect for cycling and overload applications. Offered in a variety of mounting styles, you can be assured of finding the proper unit for your machine.
Features:
Silent Operation
Smooth, accurate, repeatable torque
Options for air or water cooling
Cast Iron materials for long life
Easy to mount
Cost Effective
General Specifications:

C-1 Magnetic Particle Clutch – 1 lb-ft

C-3 Magnetic Particle Clutch – 3 lb-ft

C-3A – 3 lb-ft

C-10 Magnetic Particle Clutch – 10 lb-ft

C-10A – 10 lb-ft

C-10W – 10 lb-ft

C-10WA– 10 lb-ft

C-50 Magnetic Particle Clutch – 50 lb-ft

C-50A - 50 lb-ft

C-50W - 50 lb-ft

C-50AW-50 lb-ft

C-100 Magnetic Particle Clutch – 100 lb-ft

C-100A - 100 lb-ft

C-100W – 100 lb-ft

C-100WA – 100 lb-ft

General Specifications:

Instruction Manual C-Series Clutch