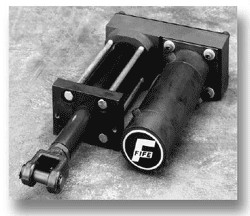 The GAB-1 is a belt-driven actuator providing the power required for most guiding applications. With a gearing ratio of 3:1, this actuator utilizes its 1.3-amp, 1,100-RPM motor to deliver a shiftable load rating of 870 lbs (395 kg), with a maximum shifting speed of 1.22 inch/sec (31 mm/sec). Standard actuator strokes available range from 1" to 18" (25 to 457 mm).

Ball screw and nut design provides low-friction, efficient operation, and eliminates the typical end of stroke sticking and/or the need for actuator limit switches. For use with Fife's CDP-01 or CSP-01 processors, this actuator is widely used for steering guides, displacement guides, sensor positioning, slaving, chasing applications, and unwind/rewind applications.

Key Features:
Belt-driven actuator with shiftable loads up to 870 lbs (395 kg).
Clean, electronic operation.
Durable construction for continuous duty reliability.
Non-sticking end of stroke design
No limit switches required.
Compatible with all Fife automated guiding and positioning equipment.

Sized and configured to yourrequirements.