Spyder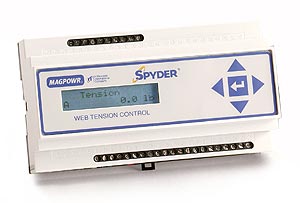 Designed for precise closed loop tension control, the Spyder is capable of controlling web tension in unwind, rewind, point-to-point or dancer applications. It measures tension from one or more MAGPOWR load cells and outputs a corrective analog signal to control a torque device. Its reduced
size means it can be hidden away in an enclosure or underneath the machine.
With its ethernet connection, the Spyder can be viewed on a web browser for remote troubleshooting, programming and/or data collection. Additionally, the Spyder provides an analog input for Manual Level setpoint, control inputs for Run/Stop, Auto/Manual: Tension On/Off, and E-Stop, and a 0-1 mADC meter output proportional to measured tension.The Spyder is a cost effective, easy-to-use control capable of delivering advanced features such as adjustable taper tension to nearly any application.
Features:
Powerful tension control at an affordable price used to control clutches and brakes, or interface directly with a drive
Troubleshooting and parameter access via a web browser, html file format
Adjustable taper tension
User-friendly keypad and display
Versatile control for unwind, rewind, point-to-point or dancer
applications